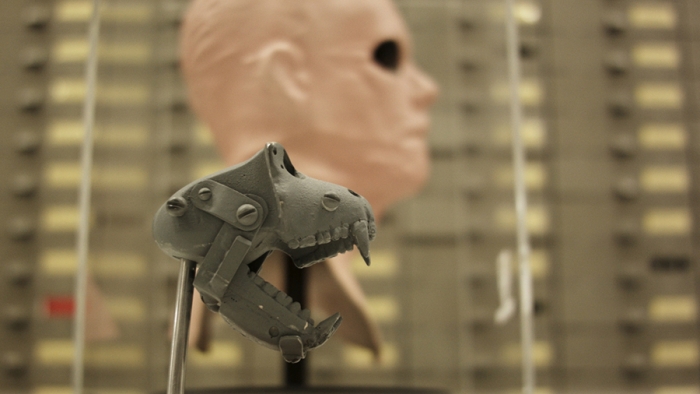 >
lecture slide still
Skull Island Part III
2019
lecture

Part III of this ongoing series of lecture/video works is structured around two artefacts found in the visual effects archive of Berlin's Deutsche Kinemathek Museum of Film and Television.

A cast of the skull of the original armature for the stop-motion model of King Kong (Merian C. Cooper and Ernest B. Schoedsack, 1933) and a silicone mask constructed for Kevin Bacon's computer-generated invisible character in Hollow Man (Paul Verhoeven, 2000) create a framework in which to discuss the surfaces and armatures or the skin and bones of moving images.

The lecture and subsequent film examine the inherent hidden material and socio-political properties of moving images, the perpetuation of ideological constructs in cinematic remakes or reboots, and traumas encapsulated in the sites and processes of moving image production.